Honda Ridgeline Pickup Truck
Drivers in Torrington who are searching for a pickup truck that is capable of getting the job done, but is a standout adventure vehicle that keeps you connected, be it at the campsite, by the water, at the tailgate and much more, the Honda Ridgeline has you covered. The unique pickup truck available here at Sullivan Honda provides you with the capability you need, but with many more features that make it stand out among the rest.
Ridgeline Performance
With 280-horsepower and the ability to tow up to 5,000 pounds, you know that the Ridgeline is able to perform and do the things we expect out of a pickup truck. With six different available options, you'll have you choices too among those that are two-wheel drive and all-wheel drive as well. It's the features that set the Ridgeline apart from its competition though.
Key Honda Ridgeline Features
It all starts in the truck bed. You can open the gate outward and downward meaning that loading and unloading is convenient based on the items you have. In addition to that, there's a 7.3 cubic foot In-Bed Trunk® which allows you to have additional storage underneath. It also has drain plugs so you can put wet supplies in to dry out, or can use it as an ice chest or cooler for food and drinks to store with ease. Along with the storage in the bed, there's also an available 150 watt or 400 watt outlet in the truck bed, too. This allows you to plug in your tools just about anywhere, and even has the strength to power a TV. Add in the available, industry-first truck bed audio system, which uses the bed walls to play music and other audio, and the Ridgeline is always where the party is at.
Ridgeline Interior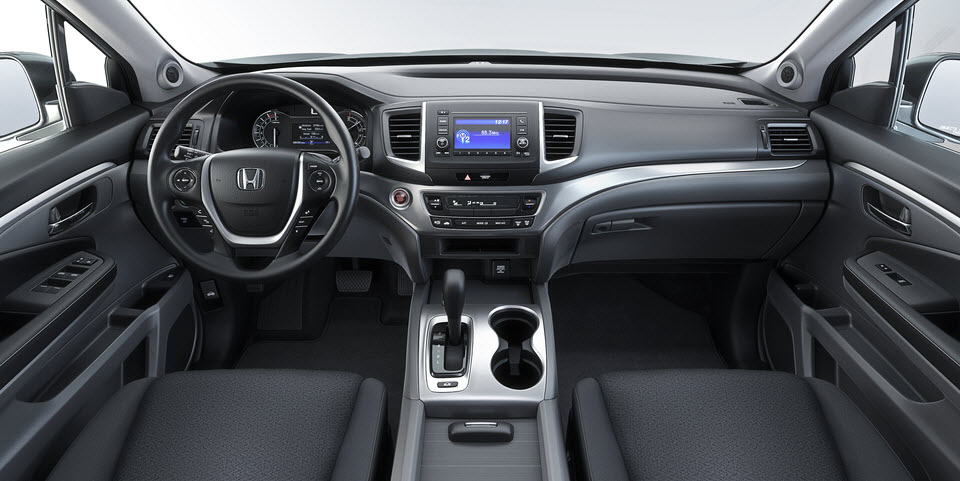 Climb inside, and you'll find that you can be treated to a variety of other standout options, as well. This includes class-leading interior passenger volume to comfortably fit in five, and the ability to configure the cabin with a 60/40 split fold up rear seat so you can place items inside as well. You'll also find that the Honda Ridgeline offers features such as HondaLink™ for connectivity on an available eight-inch display with access to Android Auto™ and Apple CarPlay™ available. There's also features like a standard multi-angle rear view camera, and safety features such as blind spot monitoring available.
To learn more about the Honda Ridgeline pickup truck, feel free to contact us here at Sullivan Honda in Torrington and we'd be happy to answer any questions and arrange a test drive.